Use Case
Samuli Ojala, Vaasan Hietalahden Apteekki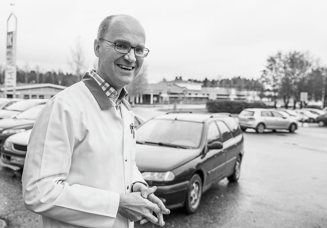 When individualized treatments are not available, patients may be treated ineffectively or sometimes not treated at all. The pharma industry uses capital-intensive processes to produce large volumes of tablets that are identical in dose, shape and size. Yet this uniformity may be unsuitable for treating many patient populations – including pets, children and the elderly – resulting in undesirable side effects and poor treatment efficacy. This challenge can be overcome by using small-scale manufacturing called compounding, to produce personalized medicines for niche patient groups. There are many talented pharmacists who are able to do this manually and today we are interviewing Samuli Ojala, pharmacist from Oulun Central Pharmacy.
Samuli, for those who are new to the topic, can you please explain what an extemporaneously manufactured drug is and when they can be used?
An extemporaneously manufactured or compounded drug is simply a drug made in a pharmacy according to prescription from vet or physician. Typically these are suspensions, solutions, capsules, creams and ointments. Extemporaneus manufacturing (compouding) is usually very labour intensive and time consuming. Thus it may take days from prescription to dispensing.
From a vet point a view, where there is no suitable (veterinary) medicine authorised in the territory for the specific condition in the animal being treated, to avoid unacceptable suffering, veterinarians are permitted to use their clinical judgement to treat animals under their care in accordance with the cascade.
The cascade legislation is a risk-based decision tree. Prescribing decisions in accordance with the cascade should be made on a case-by-case basis. A pharmacist may dispense authorised veterinary and human medicines, and extemporaneous preparations they have prepared, based on a prescription from a vet for use under the cascade.
Samuli, you are interested in new innovations for the pharmaceutical industry. What do you see happening in the near future when it comes to personalized medicine?
"Many veterinarians/physicians are often unaware of the treatment possibilities provided by drug compounding. Successfull extemporarenus manufacturing requires co-operation between the prescriber and the pharmacist. The prescriber often needs advice from the pharmacist to write the prescription.
Many veterinarians/physicians in Finland turn to me, as they have learned that we can compound personalized medicines for niche patient groups in my pharmacy. It's important to understand that extemporaneous drug manufacturing is always based on a prescription from a veterinarian or a doctor. The veterinarian has to assess the treatment options and comply with the cascade legislation. We are happy to help when needed, even though extemporaneous drug manufacturing is time consuming and involves manual work."
Compounded drugs are not quality tested to same extend as industrially manufactured drugs, however new and innovative technology can make things easier in the future when accurate dosing systems and integrated quality control is available.
"I believe in personalized medicine and I have already helped hundred or even thousands of animals with optimal treatments through small scale manufacturing. In our pharmacy we set high standards for our work and always want to make sure that veterinarians can trust our treatments, especially when it comes to compounded drugs that are typically not quality tested but prepared with high professionalism and according to the regulations".
​ CurifyLabs is displayed in the pharmacy window.
"There are innovative ways enabling mass customisation of drugs, bringing pharmacists back to the lab, ensuring quality control of each and every produced dose. This benefits not only the patient, but also the care giver, who are less exposed. In veterinary medicine it is common to split tablets in small pieces. Try splitting a tablet in 5 or 7 pieces! Taste masking options allow better treatment efficacy and can be used when technology enables this. In Finland we have a long tradition and a lot of knowledge when it comes to drug compounding and I'm proud to be part of introducing new technology which enables personalized treatments."
Fimea and Ruokavirasto have oversight of the pharmaceutical sector for veterinary medicines, which is highly regulated and controlled to ensure patient safety.